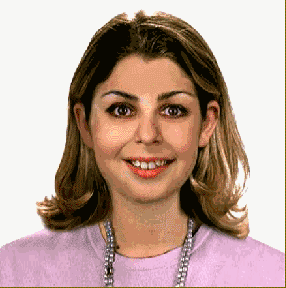 "My name is Tom Kraemer. I created the picture of the girl above on a computer. She does not actually exist, or so it would seem. Since creating the picture, I have fallen in love with the girl in the image. Perhaps this doesn't make sense to you, but I believe I have created the image of my Soul Mate. She is, you might say, my 'dream girl'. I know this might sound strange, but I have to find the girl who matches this image.
I know my dream girl, my Soul Mate, is out there somewhere. Have you seen her? Do you know her? PLEASE have her contact me via e-mail. My happiness depends on it. Thank you.
"Who is she? She's an 'ordinary' girl - to you - but to me she's beautiful... in heart and in spirit. She's waiting for me to find her.
"Who am I? I am an ordinary guy. I'm 41 and I've been divorced for about a year now. I never thought I'd be doing something like this. I don't even know much about computers. I borrowed a computer and a program called SuperGoo from my friend Bob as a way to find a hobby for myself. After playing with it for a while, I created the picture above. If anyone had told me that I'd be falling in love with a picture I created on a computer, I would have said they were crazy, but that's what's happened. Now I must find her."
Help out by getting a Toms's Girl T-Shirt, mug, or hat. You can do your part to change the world.
---
Note: The operator of Cranky Media Guy is NOT the person seeking this woman. Tom Kraemer is a friend of mine and former coworker in the broadcast industry. I am helping him find the woman of his dreams. Email sent to the above address is forwarded to him.